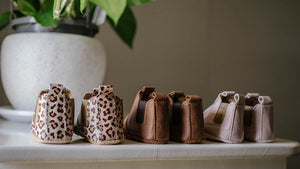 Handmade Soft Shoes For Divine Little Souls
Taking their first steps are so very important thats why our soft sole shoe are so soft and flexible. They mimic bare feet and allow out little babes to improve their balance as well as strengthen all of their tiny muscles.
Delicious boots make sweeter memories
---
Blogs
---
  The Benefits of Minimalist Footwear for Kids Less is more for optimal development of young feet. Tiny baby sneakers and their equally cute toddler counterparts are irresistible to parents...